Best Practices When Designing Waterproof Printed Electronics
We all know that when it comes to electronics, we must be extra careful to keep our devices away from water to keep them working. We've all stored our phones in a bag of rice overnight when a mishap has stricken, right?
When it comes to wearable electronics, water resistance is even more important. Not only is it more likely that your device will come into contact with water due to being exposed to rain, but sweat is also a factor if worn on the skin.
Smart clothing is becoming more popular by the day, and a key factor in consumers' purchasing decisions is making sure their devices will be safe if they come into contact with water, whether expected or unexpected.
Sweat, rain, and water sports all present issues and limitations with existing wired technology. However, wireless, printed electronics built into wearable smart garments, are fool-proof and less prone to damage. Expert manufacturers can design waterproof printed electronics.
Forms of Waterproofing
Water-Resistant Substrate Layers
Much like laminating an important document to keep it safe from moisture, smart clothing can also be covered in a laminating material to prevent water from getting in.
TPU, or thermoplastic polyurethane, is often used as a cover and base film for this purpose. This is commonly how printed flexible heaters are insulated and kept safe from moisture. DuPont Intexar TE-11c and other TPU films are commonly used with hot-melt adhesive for printed e-textile circuitry, sensors, and heaters.
Using waterproof substrate layers is a great option when the smart garment may be exposed to water occasionally, but it's not likely that it will be completely submerged very often – or, if the electronic will always be kept indoors and will only get wet when being cleaned or in the case of a spill.Waterproof substrate layers like TPU are also ideal if the element itself will not be exposed to water directly very often – such as when the electronic element will be naturally covered by other items. For example, when a printed heater is placed on the inner lining of a jacket, like in the Ralph Lauren Opening Ceremony parkas worn by Team USA in the 2018 Winter Olympics.
Further – while sweat is guaranteed when it comes to wearables in sports and fitness, it isn't likely to submerge the device completely and risk any damage. Because of this, smart clothing that will be in direct contact with the skin is typically safe with a TPU cover layer.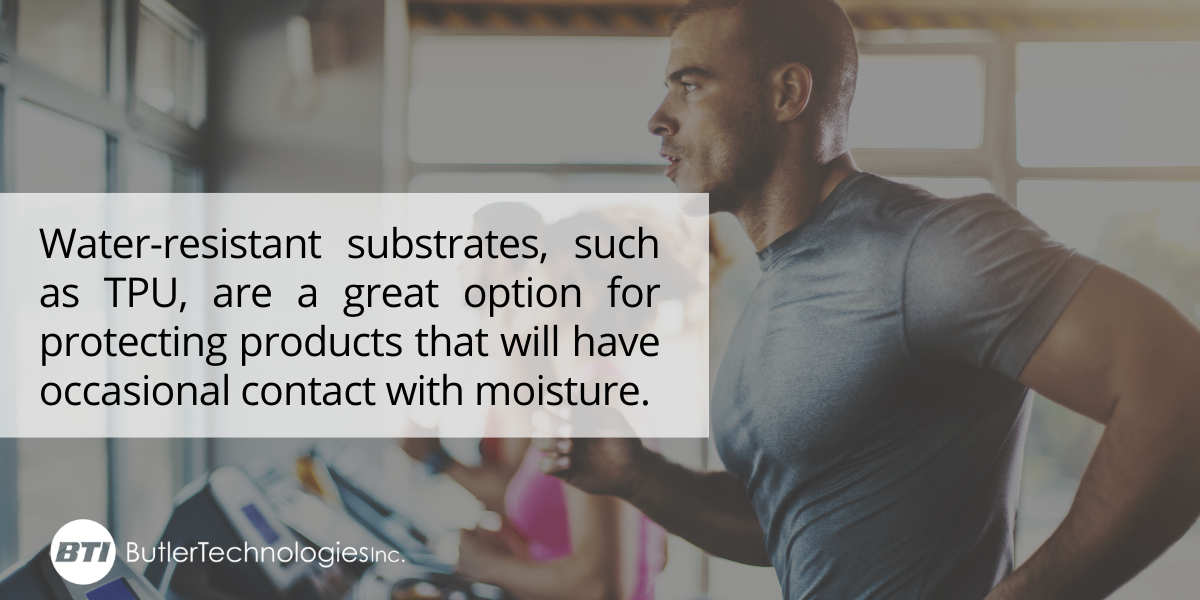 Moisture seals
Engineers can add moisture seals for extra durability to products such as membrane switches, which makes them waterproof printed electronics. The protective layer can be submersible and able to withstand moisture and water spray. A bezel is a watertight perimeter seal commonly used for this purpose.
For standard membrane switches, it's typical to use .005 ST505 heat treated polyester for the circuit layer; to make it water resistant, a gasket (Picture Frame layer component) is added to the overlay, circuit and other layers. This gasket is the same thickness as the other layers combined, therefore creating a seal around the circuit. An IP67 rated seal requires a minimum of .125" of 3M 200MP adhesive around the circuit.
These watertight perimeter seals are necessary when a product is guaranteed to come into contact with moisture regularly and at high amounts. Waterproof printed electronics are needed in a variety of different industries. For example, user interface and printed electronics products for boating, such as capacitive touch displays, need to be completely watertight because water will always be present.Water sports are another example where moisture seals may be necessary. If a diver, rower, or swimmer will be completely submerged in water – and for extended periods of time – the printed electronic should be encapsulated in a seal to make sure it's protected.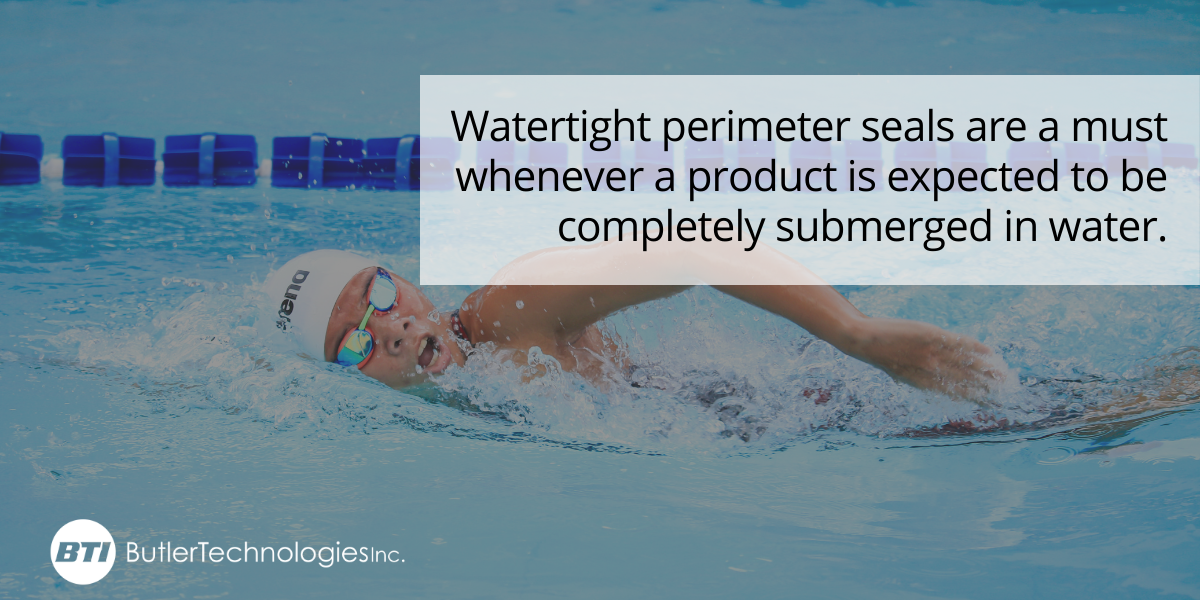 Separate Part
If there are specific parts to a garment that cannot or should not get wet, like external charging devices or extra battery packs, they can be designed to snap on and off the garment whenever the item is getting washed or will be used while exposed to the elements.
Determining your Needs for the Product
To know how to best waterproof printed electronics, you'll first need to determine the use case for your specific product.
Designing For Washability (clothing or fabrics)
Best practices for washing are a key part of messaging surrounding your product, too. Like any other delicate garment, smart clothing should be washed with care and air-dried or tumble dried on low for the longest lifecycle.
Wash/wear testing is a key aspect of the development process for wearables and smart clothing. A quality manufacturer should subject wearables to rigorous testing to ensure proper function.
Dimensional Stability
Another key way to determine the right way to waterproof a product is by determining its dimensional stability.
Dimensional stability is "the property of a material to resist changes under varying environmental conditions, in its length, width, or thickness." Dimensional stability is of great concern in the printing processes as heat from curing can change a materials size across its width or length or both (known as distortion).
Keeping this top of mind during the entire design process ensures a robust and reliable design. Manufacturing experts can provide valuable insights to guarantee the product functions perfectly regardless of changes in environmental conditions such as absorption and release of moisture in the air.
Experts in Quality Printed Electronics Manufacturing
Butler Technologies, Inc. has been manufacturing waterproof printed electronics for decades. Our expert in-house design, engineering, and production teams can take your project from the beginning discovery stages all the way through manufacturing and distribution. We'd be happy to walk you through which water-resistant protection methods are right for your application. If you have any questions about our process or have a new product inquiry, reach out today.
Meet the Author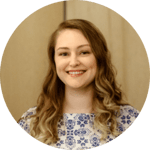 Madelyn is an integrated marketing specialist at Butler Technologies and has a passion for problem-solving, project management, and storytelling. She loves marketing in the B2B technology space and has a degree in English specializing in editing, writing and media from Florida State University.