Since the advent of the internet and other advanced technologies, a lot has changed in the industrial sector. These days, industrial workers use numerous sophisticated pieces of equipment to perform repetitive tasks, such as machine operation. One technological advancement that has grabbed the attention of many industries is capacitive touch.
Capacitive touch, or cap touch, is a control display that uses the conductive touch of a specialized device or human finger for input. With this advanced technology, many industries and people are steadily moving away from traditional switches, knobs, push buttons, and keyboards. These touch screens provide an economical alternative to the conventional buttons, dials, switches, and counters many people and industries use each day.
Capacitive touch technologies are the newer class of control elements dominating the way we interact with different pieces of technology. They are highly accurate touchscreens that respond instantly by utilizing the electrical properties of the human body.
With capacitive touch technology, it can operate through metal, thick glass, or plastic and can be exposed to wetness, dirt, or grease without fear of damaging it.
Benefits of Cap Touch in Industrial Settings
Many of the devices we use nowadays such as smartphones, tablets, or other smart devices, use capacitive touch technology. This has overhauled the consumer tech market and is slowly becoming the norm on many machines seen in the service, manufacturing, and industrial workplace. Here are a few notable benefits of cap touch:
1. Longevity and Durability
The capacitive touch screen is built to withstand day-to-day use, and the top glass layer makes it extremely durable and reliable. They're chemical and water-resistant, meaning they can be used for recreational activities and in marine control systems without fear of damage. Cap touch designs are created for long-term use so that they can withstand a lot of different elements.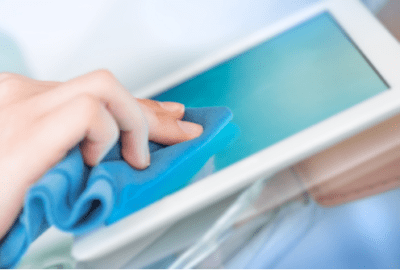 2. Easy to Clean
These touch screens come with a flat top layer that makes cleaning them easy and painless. Cap touch interfaces are not affected by dirt, grease, or dust. In fact, they can be cleaned with most common chemicals without having to worry about how the chemical may impact their functionality.
3. No Moving Mechanical Components
Industrial devices that use touch screens are considerably much quieter than traditional interfaces. They also consume less power and are quicker to use, as they don't have moving parts. With this technology, it has become easy to eliminate external noise in industrial settings, especially because there is a reduced number of external components.
4. Design Flexibility
Cap touch interfaces are excellent for products with curved surfaces allowing better changes to the general design. It also allows for greater design flexibility.
5. Backlighting and Haptic Integration
Users can enjoy an improved user experience by including backlighting or tactile response feedback. The lighting can be incorporated through Light Guide Film technology or through printed clear conductors.
6. Modern and Sleek Aesthetics
This technology provides a sleek and smooth appearance, as there are no raised surfaces or button openings.
7. Sensitive to Touch
On a resistive touch screen, pressure is needed to pinpoint a touch. However, when using a cap touch interface, it's quick and easy for your device to sense the slightest conductive touch. Meaning there's better functionality in your product's design.
8. Sharp and Quality Images
Different devices are used in industrial settings, and they must provide the best display to direct the user appropriately. Luckily, if your devices embrace capacitive touch technology, you will get the quality that is required. This is possible thanks to the use of a high-quality glass layer that transmits better LCD light.
Use of Capacitive Touch in Industrial Settings
The cap touch sensor technology has gone beyond many people's expectations. Significantly, it has made it easy to address common challenges in industrial settings. This includes noise immunity problems, thick overlay challenges, and low-power problems.
Popular industrial applications of capacitive touch technology include inventory control and management in factories and manufacturers. These sensors are integrated into the system to analyze products in the stock rooms. Retail displays and point-of-sale also utilize cap touch technology to increase productivity.


This technology has provided reliable solutions when it comes to fluid and object detection. Touch sensors offer a means to detect the amount of fluid needed for industrial uses. Capacitive touch technology also provides reliable solutions to many companies using control panels and robotics, among other applications.
Get Help Utilize the Capacitive Touch Technology
At Butler Technologies, we have a team of experienced professionals eager to help you incorporate and use cap touch technology in your design. Our team will help you every step of the way when it comes to product manufacturing and creation. We provide quality products and services to our clients that will ensure satisfaction.
Our team believes in ever-advancing technology and exceptional human interface design. Get in touch today to speak with our experienced team of engineers.
Jaclyn was previously the marketing communications specialist on the BTI Team.