Butler Technologies, ACI Materials, Principled Design & Lubrizol Collaboration Produces Innovative Fashion-Functional Multi-Tech Commuter Jacket with Warmth on Demand Powered by Flexible Printed Electronics
Introducing the future of wearable electronics. A comfortable, fashion-forward, washable jacket that delivers warmth on demand.
Multi-Technology Commuter Jacket. The Multi-Tech Commuter Jacket was commissioned by Lubrizol with the purpose of demonstrating how solutions and supply chain partners can be integrated to deliver innovative, valuable solutions to the wearables market.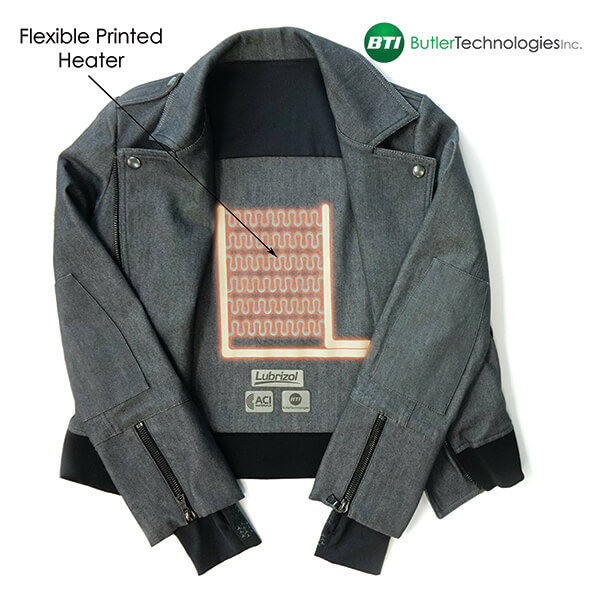 The Multi-Tech Commuter Jacket is the result of an impressive multiple-partner collaboration that took the project from concept to completion in just nine (9) months. This project underscores the importance of systems thinking in the development of novel wearable electronics — combining design, material science, applications know-how, and value chain partners having the right mindset and capabilities – to quickly turn innovative ideas into prototypes and then commercial scale realities.
Lubrizol commissioned Despina Papadopoulos from Principled Design (New York, New York) to design and oversee development of Lubrizol's Multi-Tech Commuter Jacket, including development of the supply chain, and contract assembly of jacket components into final garment form. The jacket showcases innovative technologies from Lubrizol's Engineered Polymers and Performance Coatings portfolios especially well-suited for Electronics including flexible hybrid electronics, wearables, mobile devices and accessories, and 3D printing.
Collaboration at it's best
"Designing fashion-forward, clothing that incorporates advanced technology requires a village, and that's exactly what happened here. Through open communications and the sharing of expertise resulted in the MTC jacket. The whole experience was very positive, and we are looking forward to the next steps," according to Ms. Papadopoulos .
To incorporate Lubrizol's highly flexible material solutions into a wearable platform, Principled Design then selected ACI Materials (Goleta, CA) for their expertise in conductive inks, encapsulants and resistance heater flexible circuit technology and Butler Technologies, Inc. (Butler, PA) for their proven capabilities in designing, developing printed electronics, from proof of concept and prototyping to full scale production. Each member of the team brought a deep understanding in their area of expertise and contributed to problem-solving relating to the advanced design, materials and the interplay between technology to deliver form, comfort and functionality.
Scalable manufacturing considerations
"We produced the Printed Heaters with scalability in mind. Using high precision screen printing that allows us to manufacture the circuit consistently and efficiently on a large scale," said Todd Gray, project lead for Butler Technologies.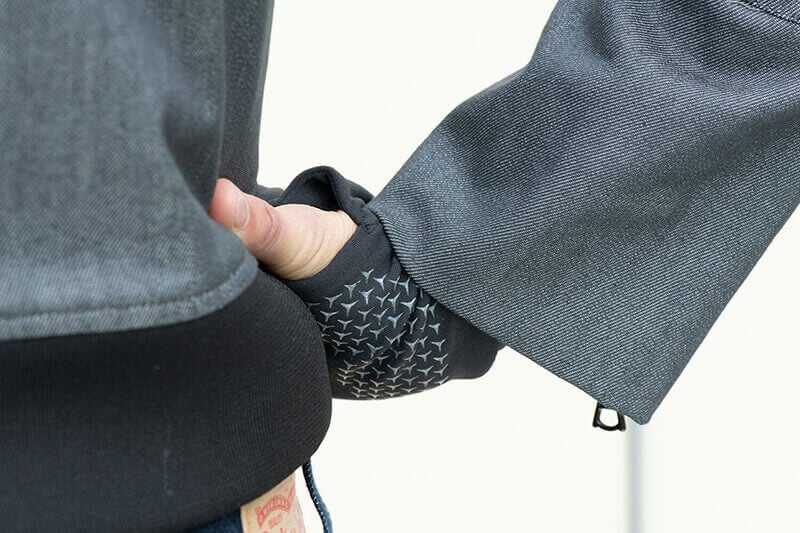 | | |
| --- | --- |
| Company | Role in Lubrizol MTC Jacket Development |
| Lubrizol Advanced Materials, Inc. | Project owner; material solutions provider of stretch fabrics, flexible substrates, hot melt thermoplastic polyurethane (TPU) film adhesives, 3D printing TPU filaments and stretch control fabric coatings (Lubrizol Engineered Polymers and Performance Coatings) |
| Principled Design | Jacket design, development of supply chain, contract assembly of jacket components into final garment form; project management |
| Prosperity Denim | Comfort stretch denim fabric produced using Lubrizol's revolutionary X4zol-J™ fiber technology |
| Ruey Tay | Comfort fit interlining produced using Lubrizol's revolutionary X4zol-J fiber technology |
| ACI Materials | Flexible conductive and resistance inks for printed circuits, flexible circuit encapsulants and adhesives, heater circuit design and technology |
| Butler Technologies Inc. | Experience in design of heater elements, screen printing of flexible circuits, application of hot melt flexible adhesive layer, manufacturing of flexible circuit layer(s) stack up |
Each partner in the collaboration contributed to a clear, shared vision and committed resources to drive the program's speed, problem-solving, and successful outcomes.
Designed for stylish and functional street-to-office wearability, the Multi-Tech Commuter Jacket features Lubrizol materials that ensure function, comfort and durability over the life of the garment. Stretch denim and polyester fabrics move and breathe with the wearer for comfortable motion and mobility. ACI's flexible circuit heating element with stretchable encapsulation providing protection for conductive traces located across the inside of the jacket's back provides warmth on demand – without the bulk of additional clothing layers. Fabric treatment at the elbows and palms with Lubrizol coating technology enhances garment durability both in-use and when laundering.

Lubrizol's MTC jacket can be seen at the IDTechEx Show! on November 14-15, 2018 at the Santa Clara Convention Center in Santa Clara, CA, in Lubrizol's booth (#N28), ACI Materials' booth (# T37) and Butler Technologies' booth (#A27), helping bring to life the theme of the event, "Connecting Emerging Technologies with Global Brands".