The Process for Developing Smart Clothing & Electronic Garments
Why Partner with Butler Technologies, Inc. – Our Experience & Partnerships
Years of Experience

Butler Technologies, Inc. has years of experience when it comes to designing and developing wearables. BTI is developing disruptive products for the wearables market. Very early on, we partnered with major material and ink suppliers to assist in the development of the materials that would become today's platforms for wearable printed electronics.
We have a very experienced and knowledgeable team with years of experience under their belt to help you get not only the best product but the best customer service along the way as well. We will remain in contact with you throughout the entire process to help keep your mind at ease.
Determine the wearable you'd like to create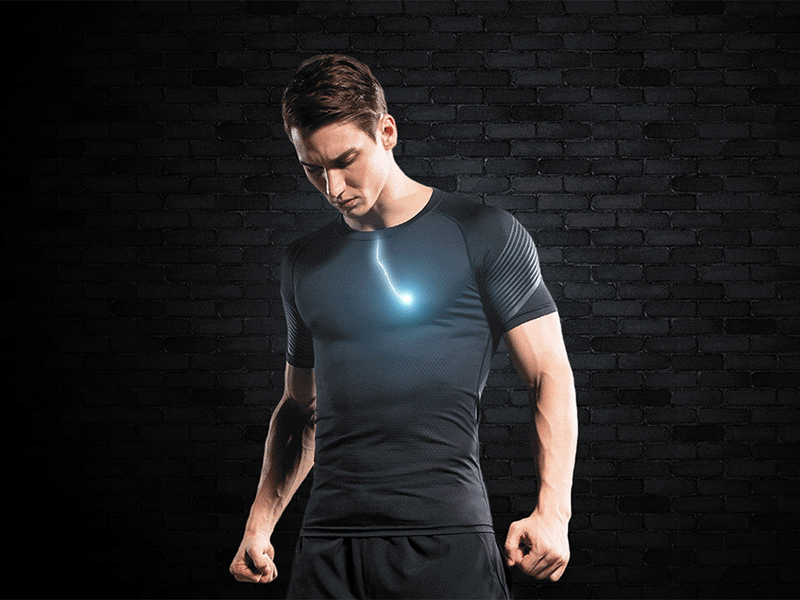 The very first step in the process of designing a wearable is to establish the type of wearable you're looking to create. At Butler Technologies, we specialize in the creation of biosensors, force-sensing resistors, and flexible printed heaters. Dependent upon what your project needs, we can implement up to all three of these within your garment. You must establish whether you're interested in monitoring performance, force-load, or if you're simply interested in creating a heated garment for the end-user.
Function First
A common misconception is that you should design the look and feel of the smart garment prior to understanding its functionality and how it should work. Both pieces are important. But in reality, designing the look first can lead to poor and inadequate function of the smart garment.
You must first determine the way that you'd want your wearable technology to work and operate and then prove the concept. You must consider what part of the body you would like to get information from to determine the location of the sensors. Determine where the signal will be traveling and once you've determined that, you can begin to think about the look of the item. Seams and changes in texture should be considered prior to designing the final look of the garment.
No Need to Find Partners on your own.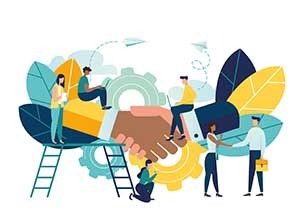 When it comes to the development of wearable technology, our team at Butler Technologies has the experience and partnerships needed to move your product from idea through prototype into production.
One of the most common misconceptions about hiring a manufacturing company is that they're only one piece in your puzzle, leaving you to find appropriate partners for the rest of your project. However, at Butler Technologies we have all of the pieces you need, so there is no need to find them on your own.
We have partnerships that were built from years of developing wearable projects. We act as the one-stop source to develop your wearables from concept into a functional product.
1. Software Development
We have great partnerships in software development. When we discuss wearables, we're discussing the implementation of biosensors, flexible printed heaters, or even commonly force-sensing resistors. Based on the wearable you'll be designing; software may be needed to properly operate the wearable. For example, biosensors may need a form of software, or possibly even an application (app), created in order to effectively read the information being given off by the sensors. The same could be said about force-sensing resistors because they're providing you feedback on the force being applied. However, if you're implementing flexible printed heaters into your wearable, an application wouldn't be needed. PTC Heaters can regulate the temperature without the need for external controls.
2. Industrial Design and Soft Goods Design
If your wearable requires an aesthetic appeal or a specified look, we can help. Whether you're interested in implementing Bluetooth, or your wearable requires connectors, we have the partnerships and expertise to help guide you to a solution.
Connectors are required when implementing Bluetooth. It is the most common method for transmitting data from the garment to the app. Another big advantage is that Bluetooth modules are compact and require little power. The connection method between the flexible circuitry and the Bluetooth module can be accomplished through different types of connectors. Our company has expertise in connectors and defining which connectors best suit your project. Check out our Connector Blog for more information.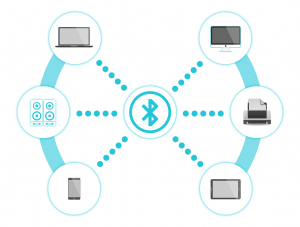 We also have fabric partnerships to aid with the specified needs of your smart garment. We have partners who can help create your fabric to a specified look or feel so that you're getting the final product you envisioned. We work with companies that specialize in knitting with conductive threads as well as soft good design.
Printed Traces vs. Woven Conductive Yarns
Durability: Printed traces are far more durable in your product. They can withstand dozens of wash cycles and will last longer in your product and its design. Printed TPU systems are stretchable and less likely to break, unlike woven fibers.
Faster to Prototype: They're also easier to prototype, meaning that the process is not only simplified for you, but it can be developed and created far quicker. Design iterations can be achieved within days.
Can be applied to any fabric: There aren't fabric specifications when it comes to printed traces. They can be applied to any shirt, or garment that you choose as well as any fabric.
Compression Clothing for Biometrics. The main clothing of choice when it comes to biometric sensors are compression garments. The reason why is that the sensor needs to be held within close contact with the skin. This allows the use of off the shelf shirts and shorts to speed up production and uncouple the need of clothing design from the circuit development.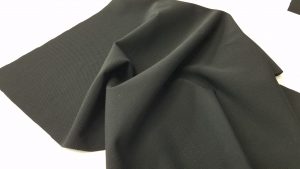 However, if you decide that printed traces aren't the route you'd like to go with your product, don't worry. We have partners who do conductive knitting, meaning that if you choose to utilize woven conductive yarns rather than printed traces, we can help.
3. Garment Manufacturers
Through years of working in the wearables space, we've had the pleasure of working with some of the most innovative clothing manufacturers. Beyond prototyping capabilities, projects need the ability to make the leap to full-scale production. We've worked with companies specializing in technical performance activewear. The combination of circuit manufacturing and cut and sow capability allows us to rapidly integrate wearable technologies.
4. Materials and Ink partnerships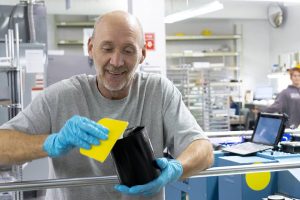 Starting down the path of growing our wearable business we have had the opportunity to work with companies on the cutting edge of materials and inks. Companies like DuPont, EMS, Lubrizol, & ACI materials to name a few. By working early with them early in the development of inks, we were able to learn from the best and help advance materials and inks used in today's wearable systems such as DuPont's Intexar Line.
We would love to help you to understand the entire process and the way to best create your wearable technology or smart garments.
We have our development process of wearable technology simplified into three simple steps, or phases. By creating your product throughout our specified process, it will not only ensure the best quality but that you will have the best functionality of your product.
Phase One – Determine the technical concept, feasibility, and commercial potential
1. What is your idea?
The first step in the process of creating your wearable technology is to first have an idea. Are you interested in creating heated apparel, developing sports tech for monitoring athletic performance, or a medical brace for home healthcare? From there you would then identify what garment type would best suit this product. Are we discussing a smart shirt? Smart pants? Possibly a headpiece?
You will need to establish a technical concept for the product. It needs to be feasible and have commercial potential, meaning that it will provide benefits that consumers would be interested in purchasing.
2. Determine the Requirements
What requirements would this require? For instance, where would the sensors need to be placed? What sensors would be required? Is it feasible to implement all of these sensors into the final product?
Manufacturing Method
How will I manufacture the product? Will it use printed electronics or woven threads? Knowing what type of garment you will require greatly impacts the decision on how to manufacture and what combination of companies need to be involved.
Where will I manufacture the product? This is especially where the BTI team comes into play. We will handle the manufacturing process and will ensure that the appropriate partners are lined up to get your product fully developed.
Sensor/Circuit Design
Knowing what you need to measure or where you need to provide a signal will determine the design of the circuits and sensors. What design would best benefit your company? Our team of experienced engineers are readily available to help you answer these questions. You'll also need to determine what application method you'd like to use to incorporate the circuits and sensors into the garment. Is there going to be software needed to create this garment? If so, what software? As said prior, we are here to help make this process as painless as possible for you!

Hardware
Another important factor oftentimes forgotten in the creation of wearable technology is the hardware. Is hardware, such as connectors, batteries, or Bluetooth, going to be needed? If so, you'll need to ensure that you're designing the piece to functionally incorporate the hardware, such as a battery pack that would be needed to power a smart garment with a flexible printed heater incorporated into it.
Software Application
Is an app going to be needed to provide the functionality to the garment? If so, what features would you like to include in the app to ensure you're utilizing all of the applications of the device fully? These are all questions that will be answered throughout Phase 1 and the initial creation of your product.
Soft Goods Design
We'd finalize this step by establishing the Garment Industrial Design. This means what process of design would we use for the mass production of your garment and what technique would be most beneficial.
3. Develop the Electrical Concept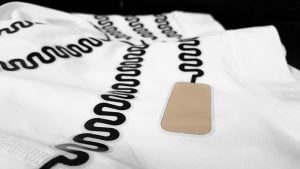 During Phase 1 we determine all the electrical components that will go into the development of the smart garment as well as how they will be designed into the fabric. This is where we will determine where to place the traces on the garment and how they will work most efficiently. The best part about having a custom design of your product is that we can design the traces to meet your specific project requirements. Meaning that your product will be designed and developed based on your specifications.
During the development of the electrical concept is where we will look into not only the hardware needed, but how much power is required to power the smart garment. Is this smart garment going to use a small battery, or will it require a large amount of power to function? You may also determine how long you'd like the smart garment to function without needing to be charged, which would also go into deciding the amount of power you'd like the garment to have.
4. Prototype and Test
Test Circuit Functionality
During the Prototype and Testing stage is where we create the prototype of the circuit with all of the designated specifications to ensure that it functions properly and adequately prior to mass production.
During this step is where you will test the functionality of the circuits and ensure that all of the circuits are operating correctly. We will help to ensure that they all do their role and work together properly to give accurate readings, etc. based on the feedback given to us.
Apply the Circuits to the Garment
This step is also where the application of the circuits to the fabric will be tested because the sensors are the key aspect of the entire smart garment.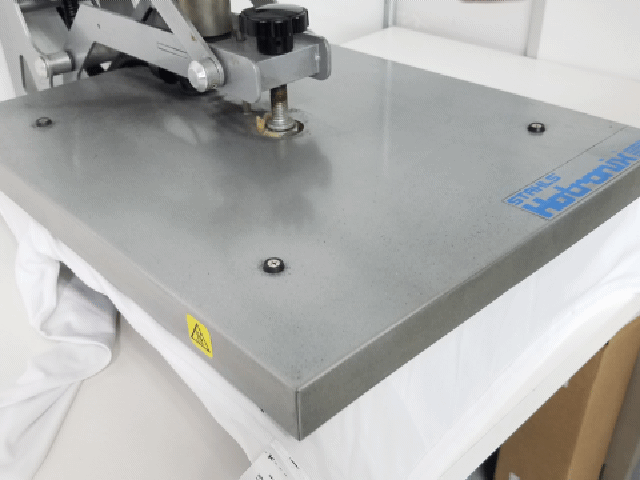 Wash/Wear Testing
The testing phase is also where you will have the time to run trials on the wear and wash of the smart garment. Is it plausible and comfortable to wear? Does everything work as it should after you wash it? This is also where you will be given the chance to establish the wearable's life span based on the washing test. How many washes can the garment withstand?
Software Testing
The last step in the prototype testing phase is to test the software. Does it work properly and give proper readings? Does it sync up well with the app? (If you decide an app is the best option for your product) After all of the appropriate testing is done during this step, we can transition into the next. If we find issues or faults within the product's design, this is also where we will have the chance to help you redesign the product so that it is functional, and we will go back through the prototype and test stage until we get the results we hoped for. Once the design works correctly, we have successfully finished Phase 1 and the product's design, so we can transition into Phase 2.
5. Reiterate and Finalize the Design
It is naive to think that every design will work the first time around. We understand the need for rapid design and prototyping of your design. The faster we can produce and test, the more robust the design will become. We work to ensure the appropriate changes are made quickly so that it can be tested and verified until it functions as it should. The beauty in flexible printed circuits is that they allow for quick iterations, allowing us to make the appropriate revisions. This ensures we are best utilizing your time.
Phase 2- Preproduction Feasibility
In Phase 2 is where the preproduction feasibility comes into play. In this step, the garments will be acquired in their "close-to-final design". This is the phase where a design firm will do most of the upfront work in perfecting the design of the garments.
The design firm will tweak the garment based on manufacturing adjustments and the current manufacturing method. By the time we begin pre-production, the garment look and feel will be finalized.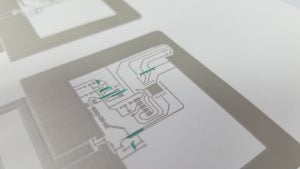 Pre-Production Runs.
Butler Technologies, Inc. will then begin manufacturing small pre-production runs that will prove that the manufacturing process is achievable and repeatable. BTI is capable of running preproduction lots from the dozens of parts up to tens of thousands. This will allow us to find improvements and make changes to the development process to ensure full-scale production is possible and maximize efficiency.
Phase 3 – Commercialization
Once the previous steps are completed, we will transition into Phase 3 which is where the commercialization of your product will begin. This is where we will begin the full-scale ramp-up of your product's manufacturing. Of course, you ultimately determine what "full-scale" means and can determine the amount of final smart garments you'd like to create. The manufacturing process involves creating the sensors and traces that will be utilized in the final product's creation.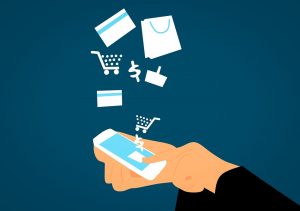 From there, we transition into the production of the finalized wearable. This is where we send the manufactured sensors from our company to our partner to get them incorporated into the smart garment. After everything has been incorporated into the fabric of the article of clothing, your smart garment has been completed and you have now created your very own wearable technology.
Although we may not do everything directly in-house, we have the relationships and partners to help bring your product from concept to full-scale production.
If you have any questions with regards to our capabilities or are interested in getting your wearable technology project started, reach out. We're ready to help!

Jaclyn is a Digital Marketing Specialist on the BTI Team. She serves as the Content Manager, where she primarily manages social media channels, SEO, Public Relations, and website development. To get to know more about Jaclyn, check her out on LinkedIn!