COVID Killer
Written by Butler Business Matters & The Butler Eagle
Butler Technologies makes coating for high-touch surfaces
When it comes to coronavirus innovation, a Butler company is killing it. Butler Technologies on West Wayne Street has created an adhesive copper cover for high-touch surfaces that kills coronavirus by 90% on contact and 99% after a few hours. Jamie Orlando, Director of Marketing and Sales at Butler Technologies, said BTI's engineers at the company were working with another firm last summer to develop inks for use during the coronavirus pandemic.
Butler Technologies experts were interested in creating a door wrap that is infused with copper, as the metal is known to kill certain germs and viruses. "We decided that would be a great thing to apply to some of our products," Orlando said. The copper used at the company was sent to a laboratory for testing on the human coronavirus. The results showed the copper killed 90% of the virus as soon as it contacted the copper surface and almost all other coronaviruses within a couple of hours. Not a company to sit on its heels after such a dramatic result, Orlando said experts soon set to work printing the copper surface to fit surfaces at Butler Technologies, like door handles. 'We were thinking This could be an added layer of protection in schools, restaurants, churches and other places,'" Orlando said. Once Butler Technologies engineers knew production of the surface was doable, they applied for a design patent.
Product ready to roll Per the typical process, the company received a provisional patent. "We've now launched it," Orlando said of the adhesive copper-coated wrap. "It's here and available". He said the flexible, adhesive wrap is die-cut by Butler Technologies to custom fit the applications planned by each customer.
"If there is a unique application, we can engineer a solution for you," Orlando said. The product hit the market a few weeks ago, and the company already has backorders. "We are looking to get some inventory in and build more: Orlando said. Applications for entryway doors are so far the most popular request from customers, which have included an apartment complex, a church, and a power plant.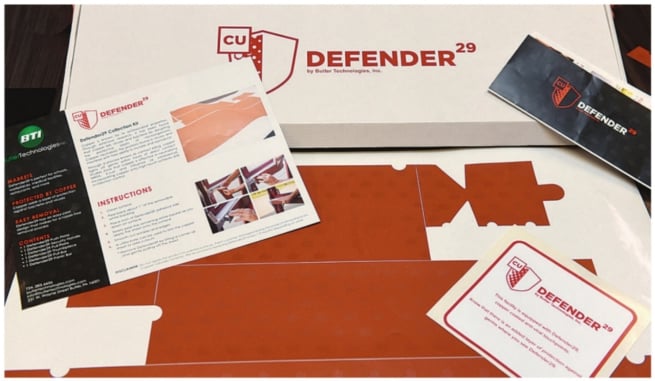 Orlando said engineers went to the YMCA in Wexford to outfit their entryway and locker room doors. "We will go to local places and fit them," he said. Because they have only been available for a short time, Butler Technologies doesn't know for sure how long the copper surface kills germs. The surface does pick up dirt and oil from fingers which can be sprayed with a cleaner and wiped, but the company is recommending users replace it after two or three months of use. "It's designed to be disposable," Orlando said.
Company engineers are now considering selling sheets of the copper wrap wholesale for customers to cut and apply to surfaces themselves, he said. The product can be viewed on the company's website, www.butlertechnologiesshop.com.
The company is thrilled to offer a product that could prevent the spread of COVID-19 and help return life to normal. "For us, it was about being innovative and seeing the need in the marketplace and saying 'We want to provide that extra layer of protection and help the community with everything they are going through during the pandemic," Orlando said.
Innovation is nothing new to Butler Technologies engineers, who in 2018 created a warming system for the jackets of U.S. athletes and para-athletes traveling to frigid Pyeongchang, South Korea, to compete in the Winter Olympics. The flexible, printed heaters were incorporated into the American flag on the back interior panel of the athlete's jackets. Three settings kept the athletes cozy for up to 11 hours in the chilly South Korean winter.
The Ralph Lauren company outfitted all U.S. athletes and para-athletes from head to toe in American-made garb for the ceremonies, and Lauren intentionally included wearable technology in the clothing using one of "America's most innovative companies," according to an article in Ralph Lauren Magazine at the time. Joe Saeler, Executive Director of the County Community Development Corporation, said Butler Technologies always stays ahead of the curve technologically, which is good for Butler County. "It helps bring success to the community," Saeler said. In addition to the company's innovations, he said Butler Technologies' owners care about the people, businesses, and organizations in the county. "Butler Technologies has been a great supporter in the community over many years,* Saeler said.
Nadine Tripodi, the company's founder, sits on the CDC board of directors, he said.
Saeler is proud to say innovations like the copper surface wrap were invented and manufactured in Butler. "It's always great to see products that are locally made," he said. Saeler said Butler Technologies represents the future trajectory of technology and he hopes the company remains in Butler indefinitely. "I look forward to working with them for years to come," he said.