CHASM Advanced Materials Expands Partner Network Adding Butler Technologies, Inc. (BTI)
Advanced CNT Hybrid materials extend BTI's offerings for manufacturing the future of transparent printed electronics
Canton, MA – October 22, 2020 – CHASM Advanced Materials announced today that Butler Technologies, Inc. has joined the Company's Preferred Integration Partner (PIP) program, increasing worldwide membership to more than 30 entities. The partnership provides BTI preferential access to CHASM's disruptive advanced materials platform. This platform offers performance and economic benefits beyond alternative materials and empowers innovative user interface design and printed electronics applications not possible with other transparent conductive films.
BTI specializes in creating and modifying solutions for the most demanding functional print challenges. As a full-scale production manufacturer, BTI also plays a vital role in developing product components. BTI's Proof of Concept development, Prototyping, and R&D activities enhance the customer experience and expedite the development process. With proven expertise in wearable Biosensors, Flexible Heaters, Capacitive Touch, and IoT Antennas, this new collaboration with CHASM will enable BTI to deliver advanced printed electronics that are superior in performance and more efficient to fabricate.
BTI is certified to ISO 9001:2015 with Design, ITAR Registered and maintains UL & CSA recognized in Label and Graphic Overlay Constructions. ISO 13485 certification for medical devices will be added to BTI's certifications in the first quarter of 2021.
"We help create solutions by visually and functionally enhancing products. We then push the envelope further to create innovative solutions fueled by our curiosity and desire to exceed customer expectations," said Jamie Orlando, Director of Marketing & Sales. "The unique properties and performance characteristics of CHASM's AgeNT and Signis materials give us additional design freedom to innovate new approaches and we can now push beyond the limitations of traditional printed electronics."
"With a range of transparencies up to 98% VLT and sheet resistances down to less than 1 ohm/square, our AgeNT platform delivers optoelectronic performance beyond other alternatives in the market giving partners like Butler Technologies, Inc. greater foundational latitude in the solutions they design and manufacture for their clients," said David Arthur, CHASM CEO and Co-Founder. "Our Preferred Integration Partner members represent a "who's who" of designers, manufacturers, and innovators in the printed electronics industry with the collective experience to fully realize new and innovative products in any industry. It's truly an impressive group."
About Butler Technologies, Inc.
Founded in 1990, BTI has transformed itself from a label, membrane switch, nameplate, and print brokerage firm, into a Printed Electronics Solutions provider. BTI employs more than 70 people at its headquarters in Butler, Pennsylvania. For more information, visit Butlertechnologies.com, or on LinkedIn, Facebook, & YouTube.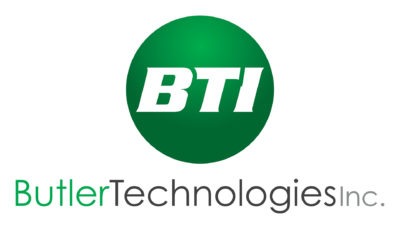 About CHASM Advanced Materials
CHASM Advanced Materials, Inc. propels cutting edge product innovations through advanced materials hybridized at the nanoscale to exceed the design limitations imposed by existing materials. Leading companies across multiple industries have fueled next-generation product innovations using AgeNT™ for transparent flexible printed electronics, NTeC™ for battery, coating, or performance additives, and Signis™ for touch buttons and sensor with superior environmental stability. For more information, visit www.chasmtek.com, or follow us on Twitter, LinkedIn, Facebook, or Instagram.